Paper Monitor: The geek shall inherit the earth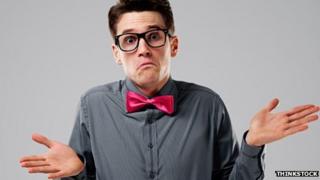 Spare a thought for Kevin Beresford, 61, publisher of a 2014 calendar titled "The fast disappearing red telephone boxes of Wales".
The product was intended to appeal to people who purchased Beresford's company's previous almanac, "Roundabouts of Great Britain".
Roundabouts were a runaway hit, but it appears phone boxes do not have the same allure.
Three months after the new title went on sale, not a single copy has been sold, according to the Times.
"We have created a calendar that is so humdrum, so naff, so nerdy, so dull, so parochial that not even the most patriotic Welsh person wants to buy a copy," Beresford tells the paper.
But enthusiasts of interests widely mocked as boring and unfashionable should not lose heart.
In the Daily Telegraph, columnist Rowan Pelling tells of working in Hamley's in 1986 alongside a young man who had packed in a scriptwriting job to work with Hornby trains. A Dungeons and Dragons fan and comics collector, he was mocked by Pelling and asked when he was going to get a proper job.
Until, a few years later, Pelling saw him in a colour supplement telling how a first edition Batman comic he owned was valued at £200,000.
"He was fortunate not to end up with a woman like me," says Pelling, "who would have hidden the mag for a prank and forgotten its location."
Snap up those phone box calendars while you can.
Follow @BBCNewsMagazine on Twitter and on Facebook