Paper Monitor: Say no more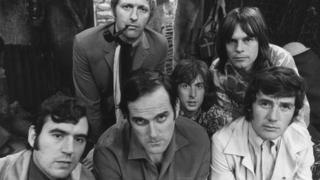 No-one expects the Spanish inquisition.
No-one expected the stars of legendary comedy series Monty Python's Flying Circus (minus Graham Chapman, who sadly died in 1989) to reunite after 30 years, either.
But news of John Cleese, Terry Gilliam, Terry Jones, Eric Idle and Michael Palin getting back together is the splash in today's Sun. If it comes to pass it's a genuine showbiz scoop.
"And now for something completely exclusive," runs the strapline on the front page.
To prevent rival titles from filching their scoop, the paper left the story out of early editions, which are seen by other newsdesks in time to rip them off for their own titles.
So there was no mention of Python in the first edition. Instead, the Sun led on claims that the chairman of a troubled bank had used drugs and male prostitutes under the headline "Sorted for he's and whizz" - which, it has to be said, doesn't entirely make sense, and contains an apostrophe error.
Python fans will no doubt forgive the paper.
Editors elsewhere will be irritated that their showbiz staffs missed the scoop. The Daily Mirror does have the consolation of a page three feature on that most Daily Mirror of sitcoms, Open All Hours.
The paper has the first pictures of Arkwright's shop in the rejuvenated version of the BBC classic.
"Ay up," goes the headline, "Granville's b-ber-ber-back".
It's a good day for fans of retro comedy.
Follow @BBCNewsMagazine on Twitter and on Facebook