Caption Challenge: Golfer doing a press-up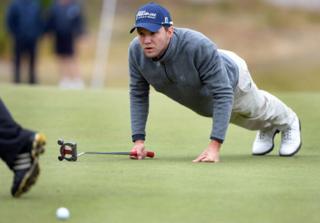 Winning entries in the Caption Challenge.
This week it's a golfer doing a press-up.
Thanks to all who entered. The prize of a small amount of kudos to the following:
6. Adrian Wade:
"Honestly, how else am I supposed to watch Ronnie Corbett sink his putt..."
5. Andrew Nixon:
There were times Gary cursed the lengths he had to go to get the name of his sponsor in camera shots.
4. Lin Vegas:
Onlooker: "If he stays like that much longer, somebody'll put a traffic cone on his head."
3. Allan McBain:
"I wish he wouldn't keep shouting 'plus four".
2. Arash:
Golf - a good press-up spoilt.
1. Lewis:
"I could never be a really great golfer," says amateur. "I haven't got the inclination".
Full rules can be seen here
[16KB]
Follow @BBCNewsMagazine on Twitter and on Facebook