Paper Monitor: Royal baby wait bait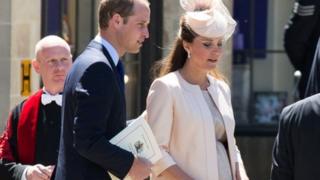 With no news of a royal baby, the papers seem to be getting a touch impatient.
The Daily Express thinks it's got the "first big clue" on the baby's expected arrival.
"'We're hoping the royal baby will be here by the end of the week'," is the paper's front page headline, attributed to the Duchess of Cornwall. Apparently she told well-wishers in St Austen everyone was "waiting by the telephone".
The picture to accompany the piece? Camilla greeting a baby in the crowd of course.
It's the same baby, different member of the royal family in the Times.
This time it's a picture of the Prince of Wales greeting the baby alongside a story on the Duchy's tax arrangements.
Meanwhile, the Daily Telegraph resorts to splashing a picture of lookalikes of the Duke and Duchess of Cambridge pushing a pram around Kensington Gardens on its front page.
"Duke, Duchess, baby... surely not" is the headline, which also takes the trouble to point out the blue buggy.
The full story is found on page 21: "Is that you, Baby Cambridge?" it asks.
There are five more pictures - the creations of artist Alison Jackson, who was directing the pretend royal promenade.
Paper Monitor hopes the royal baby will make an appearance soon...