Paper Monitor: Sing when you're winning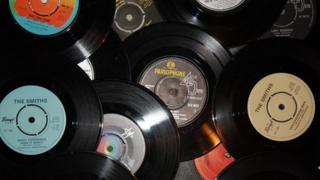 Fleet Street is writing in harmony.
Caught in a trap, there's no turning back - this morning the papers are lost in music.
In the Daily Telegraph, rock critic Neil McCormick sings the praises of the pop single.
While sales in the UK slumped to an all-time low in 2006, the Official Charts Company has predicted that 2013 will be the biggest year for the format. Daft Punk's inescapable disco pastiche Get Lucky has sold over a million since it was released in April.
Two factors are responsible for this remarkable turnaround, says McCormick. One is the rise of downloads, which have been counted by compilers of the singles charts since 2005.
The other is the online age, so often heralded as the harbinger of doom for musicians. "Great pop is viral in nature, and we know that the internet is a perfect carrier for viruses," McCormick adds.
It's not, however, a perfect carrier for band names made up of commonly-used words. The Times carries an interview with hotly-tipped Glasgow synth-pop trio Chvrches, who adopted their unusual spelling "so that their parents could Google them".
Chvrches share McCormick's thesis. "We were born on the internet," says band member Martin Doherty - a statement Paper Monitor had to read a couple of times to ensure it wasn't meant literally, what with the act all looking fairly youthful and the music industry being notoriously shameless when it comes to organising attention-grabbing stunts.
However, the Independent's big musical story is decidedly low tech.
It concerns the Duckworth Lewis Method, a two-piece band who produce concept albums about cricket. Their cover photo on their latest long player is the famous 1975 shot of streaker Michael Angelow leaping over the wicket at Lord's.
The resurrection of the image has led to appeals for the whereabouts of Angelow, who was last seen running a catering business in Hemel Hempstead but has since disappeared into obscurity. Now he's lost in music, you might say.