Paper Monitor: Summer loving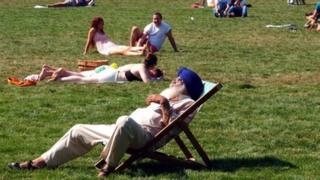 Alongside Andy Murray's victory, the papers are celebrating another long-awaited arrival today: The British summer.
"Sizzling sunshine is here to stay" the Daily Express announces, clearly delighted to return to one of the paper's favourite topics.
"Standing room only!" the Daily Mail declares, splashing a picture of the beach at Southend-on Sea. "Beaches packed in 86F - and there's more sun to come", it goes on.
The Daily Mirror manages to combine the two big stories of the weekend with "Mur-ray of sunshine".
"Stripped bare" it continues, alongside pictures of sun worshippers at Brighton beach, spectators at Henley Regatta and elephants cooling off at a Leicestershire zoo.
"Shops' shelves emptied on hottest day of year. Heat wave could last for 10 days," it adds.
Meanwhile the Daily Telegraph takes the opportunity to see what the Royal Family are up to.
"Sisters in the sun. Royal girls at play," it says. No, not Kate and Pippa. Savannah and Isla Phillips.
The Queen's great-grandchildren were enjoying a family day out watching their aunt, Zara Phillips, compete in the Barbury Horse Trials.
Paper Monitor might not be at the races. Or near a beach. But at least London has parks...