Paper Monitor: Anyone for small talk?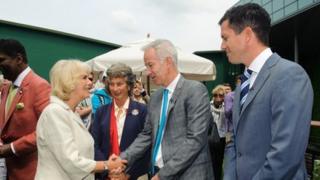 There's nothing more awkward than English small talk.
Add the Duchess of Cornwall. Set it amid the manicured lawns, blazers and straw hats of Wimbledon.
The papers are loving the encounter between Camilla and a group of BBC commentators - John McEnroe, Tim Henman and Virginia Wade - whose microphones were left on.
Camilla was "ambushed", the Daily Mirror complains. The microphones broadcasted her chat to the nation - "a breach of protocol", it argues.
But look further and the idea that this was some kind of microphonic cock-up could possibly be wide of the mark. In the Times a Clarence House spokeswoman says the duchess knew there would be a live broadcast. "She just wanted to say hello."
That doesn't make the stilted drinks party conversation any easier to listen to.
Asked by McEnroe if she plays tennis, the duchess says: "Oh, oh, very badly. I would love to start again but maybe I'm too old."
"Never too old, never too old," the American shoots back.
The paper notes the amusement the conversation caused on Twitter. "This is ace watching awkward small talk between BBC tennis commentators and Camilla, proper TV this #wimbledon," one user tweeted.
If it was a play the audience would have been shifting nervously in their seats.
Henman tells the duchess: "Federer has been such an amazing champion. He is not getting any younger."
To Wade, the duchess says. "I have got my sister here today. We used to come to watch you year after year." The former ladies champion replies: "You had quite nice seats too."
The duchess tells McEnroe that "it is always so strange seeing you doing all the commentating".
McEnroe - who has been doing it for a while now - replies: "Strange? You mean my accent?" Cue awkward silence, Paper Monitor imagines.
More tea vicar?