News tweets: The Supreme Court, the Stanley Cup and Alec Baldwin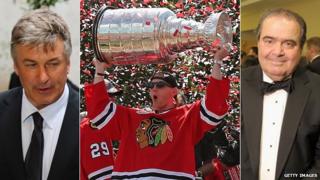 For the week ending 28 June, here is the news making waves in America - all in 140 characters or less.
1. #TxGOP claims to know the exact moment at which life begins, but can't comprehend "midnight."
Actress Martha Plimpton (@MarthaPlimpton) after the Republican-controlled Texas legislature argued a bill, voted on a few minutes after the midnight end of the session, had passed. The bill to ban abortions after 20 weeks and otherwise restrict access to abortion was the subject of a lengthy delaying speech, known as a filibuster, by Democrat Wendy Davis.
2. Wait. It's OK now for citizens to get loud and interrupt proceedings they feel are wrong/unfair? Asking for a Tea Party friend.
On the other hand, Twitter user Seth (@sethDC) takes issue with the final ten minutes of that session of the Texas legislature. After Davis' filibuster appeared to have failed, pro-choice protesters raised a ruckus and forced a further delay.
3. Two fine American towns competing for a cheap Canadian trinket is not how I imagined the future.
The parody account Old Hoss Radbourn (@OldHossRadbourn), a curmudgeonly sports enthusiast, cannot get excited about the Stanley Cup finals. The Chicago Blackhawks defeated the Boston Bruins to take ice hockey's top prize.
4. Sears drops Paula Deen. Funny, it usually takes Sears a few years to latch onto hot new trends in the culture.
Newsweek/Daily Beast editor Dan Gross (@grossdm). Sears is just one of the companies to ditch Deen, a cookbook author and television personality who has admitted to using racial slurs.
5. Poor George Zimmerman's lawyer. Can't a white man open a trial over his client murdering a black teen with a knock knock joke anymore?!
Representing Trayvon Martin's killer in a murder trial fraught with racial tension, George Zimmerman's attorney opened his defence with a joke. Majority FM producer Matt Binder (@MattBinder) disapproves.
6. "But I don't want to kiss," says Scalia. "Sorry, we have to now," says Alito. "It's the law." They embrace.
Twitter user Lanyard (@lanyardtwerk) indulges in a fantasy after the Supreme Court struck down the Defense of Marriage Act. For the record, the ruling does not force anyone into gay marriage but allows same-sex spouses to obtain all the federal benefits and rights afforded opposite-sex couples.
7. I don't drink. 155 minutes into #Morsi's speech, I'm beginning to reconsider.
To mark one year in power, Egypt's President Mohammed Morsi gave a marathon speech, televised while thousands of protesters filled Cairo's Tahrir Square. Its length made Foreign Policy blogger Mohamed El Dahshan (@eldahshan) impatient.
8. Putin says dealing w/ Snowden issue's like shearing a pig. Meaning he does it shirtless, surrounded by photographers.
The Daily Show (@TheDailyShow) imagined what Russian president and alpha male Vladimir Putin really meant when he said all the ado about Snowden was "like shearing a pig. A lot of squealing, very little wool."
9. "What's in your wallet?" Crazy. Crazy is in my wallet.
Conservative libertarian tweeter Sunny Right (@sunnyright) reacts to Alec Baldwin, a pitchman for bank Capital One (Slogan: "What's in your wallet?"). Baldwin went on a Twitter rant after a Daily Mail writer accused Baldwin's wife of tweeting during James Gandolfini's funeral.
10. Cute cover, but do Peppermint Patty and Marcie still consider marriage a tool of bourgeois assimilation?
Time magazine television critic James Poniewozik (@poniewozik). To commemorate the US Supreme Court's gay marriage decisions, The New Yorker magazine illustrated iconic Sesame Street characters Bert and Ernie in a tender pose on its cover. But there is no word on the reaction of other childhood icons sometimes suspected to be gay, such as two of the girls from Peanuts.
Some tweets have been edited for clarity and style.