Caption Challenge: Knighty knight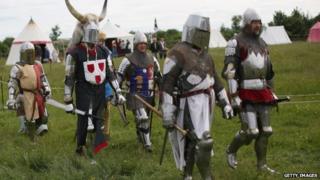 It's the Caption Challenge.
Entries are now closed.
6. Simon Rooke
And remember, the first one of you who says 'Ni' gets to polish all our armour!
5. Gurney Nutting
You mean it's not dress-down Friday this week?
4. Franc Bolero
Tony Robinson hadn't realised being knighted was so ceremonial
3. Frank, Tarporley
OK, who forgot the coconuts?
2. Valerie Ganne
Yeah, it all started for me with a metal nose ring ...
1. Lin Vegas
ITV launches new talent show, The X Calibre
There is still no prize, except the traditional small quantity of kudos.
This week it's medieval re-enactors preparing to do battle at Eltham Palace, the childhood home of King Henry VIII.
Full rules can be seen here
[16KB]