Caption Challenge: Take aim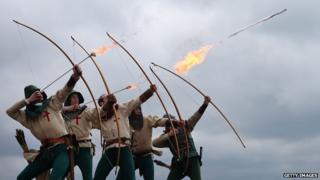 Winning entries in the Caption Challenge.
This week Purbrook Bowmen fire a volley of flaming arrows at an event in Portsmouth.
There is still no prize, except the traditional small quantity of kudos to the following.
6. robanddav
The anticipated fly past by the Red Arrows was a little disappointing
5. Sixfootup
The home delivery service for BBQ sausages wasn't going as planned...
4. hobbitmorley
Anti aircraft crews are reviewed following the MOD budget cuts
3. rogueslr
Don't let them Cornish men come over here with their spreading the jam first and using clotted cream too
2. Siv Angel
UKIP pledge to maintain "tough but fair" border controls
1. Lin Vegas
Luckily, all the Health and Safety officials were taken up with the cheese-rolling contest in the next county
Full rules can be seen here
[16KB]