Paper Monitor: Ending it like Beckham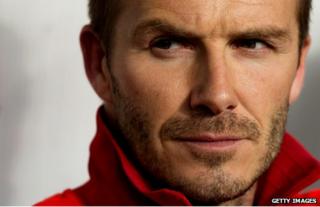 No matter what your preference in print, you'll find the same face smiling out at you from this morning's front page.
No, you with the Independent... I don't mean Nigel Farage. It's the bloke in the bottom-right corner - the world's most famous person (practically), David Beckham.
While the Indy - and its younger sibling the i - relegate poor Becks to two square inches "under the fold", none of their rivals can resist the selling power of the world's most marketable man (practically).
Paper Monitor's favourite is the Daily Mirror's montage of Beckham head and shoulders shots, which range from exhausted, through cute, brooding and menacing to just plain handsome.
The Guardian takes things a step further on its back page, tracing old Golden Balls' looks year-by-year, ridiculous haircuts and all, from the fresh-faced teenager at glamorous Preston to the old campaigner at dowdy Paris.
It comes as something of a disappointment to Paper Monitor to note the omission of the Mohawk, which was responsible for making an entire year-group of teenagers look even more moronic than they would otherwise have done.
However, it does solve a riddle which has been troubling Paper Monitor for some years. Namely, the point at which Our Becks developed the permanently cocked right eyebrow. On this evidence, it was in Spain, some time in 1994.
This facial reconstruction saw the former England skipper change from every lovelorn teenagers' crush to the kind of bloke who causes real women of childbearing age to make a sort of involuntary guttural noise, before blurting out - with cheeks ruddied: "Oh, but he seems like such a nice guy."
If you needed proof that sex sells, it can be seen in the fact that most sub-editors (including Paper Monitor's) seem to have taken a day off and left it to Beckham's image to flog the story. Paper Monitor counts at least five set-piece references to "End it Like Beckham" and that's without rummaging through all the red tops' 12-page pullouts.
So full marks to the cream of the subbing crop, the Sun. It manages to print a picture of a giant lager bottle on its front - Becks, of course - apostrophe removed and label doctored to take in David's teams (although disappointingly missing out Preston).
"Cheers David!" screams the headline. And - in light of that eyebrow - Paper Monitor can't disagree. Hhgggrrrr.