Caption Challenge: Thing with wings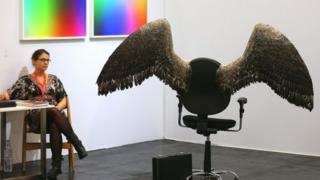 Winning entries in the caption challenge.
The competition is now closed.
Here are the six winning entries. There is still no prize, except the traditional small quantity of kudos.
This week it's a winged work of art at the Art Cologne fair.
6. SkarloeyLine:
The successful candidate would remain unflappable.
5. Pete Wright:
And this is the new range of manager's chairs, we call it the Icarus.
4. Rogueslr:
What geneticists get up to when they have too much time on their hands.
3. Chas:
Tesco and Ryanair combine to create an Everyday Value flight range.
2. Chris Brown:
7/10: convenient wing rests but nowhere to hang the halo.
1. Simon Rooke:
And this we call the Angel of the South, Bank that is.
Full rules can be seen here
[16KB]