Berlusconi: Italy's election Machiavelli?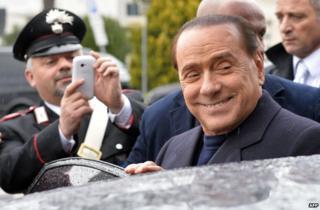 One of the most colourful figures in European politics has been barred from running in the European elections. Silvio Berlusconi would love to be able to lead his centre-right Forza Italia party into the fight.
He recently endured the humiliation of being flung out of the Italian parliament on account of a court conviction for tax fraud. If he could have headed his faction's electoral list, he would have been off to Brussels. He would suddenly have found another parliamentary stage on which to strut.
But any possibility of that was dashed last week when Italy's highest court confirmed Mr Berlusconi's two-year ban on holding any public office.
So with the leader sidelined, there was intense media speculation that one of his daughters might be put forward - ensuring that the family brand name was on the list for all to see. Would it be the older Marina, 47, an executive in Mr Berlusconi's media empire? Or perhaps Barbara, 29, and currently the chief executive of his football club, AC Milan?
There were even suggestions that Mr Berlusconi's fiancee, the 28-year-old former TV showgirl Francesca Pascale, might somehow be drawn into the fray.
But all that was no more than the chatter of journalists, Mr Berlusconi insisted. He has categorically declared that none of his children will be running.
And even if he will not actually be a candidate we can expect to see Mr Berlusconi's name and face all over the Forza Italia posters.
But almost inevitably, filling the void created by the leader's absence from the list has created tensions within the faction. And we wait to see what shape its line-up takes.
On the other side of Italy's political divide, the centre-left Democratic Party has watched developments in France with some unease. For the PD, the success of the anti-EU, far-right National Front (FN) in the local elections will have been a rather chilling spectacle. This is not the easiest time for governing parties of the left.
But the PD hopes that the quick-fire economic reforms being implemented by the party's new leader, the young Matteo Renzi, might just help shore up its vote come election day on 25 May.