Underage 'invasion': Spinning the immigration crisis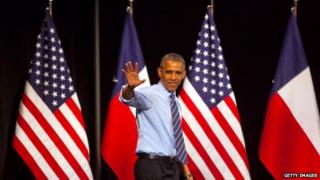 As tens of thousands of unaccompanied minors from Central America stream across the southern US border, a debate rages over whether US President Barack Obama should get a first-hand look at the situation.
Mr Obama was in Texas on Wednesday and Thursday to deliver a speech on the economy, participate in a roundtable immigration discussion and attend several big-money fundraisers. Given his proximity to the border, calls for a presidential visit reached a crescendo.
Critics said it was the president's "Katrina moment" - a reference to President George W Bush's delay in travelling to New Orleans to view the extensive flooding following Hurricane Katrina in 2005.
"It's shocking that the president would avoid visiting ground zero of what essentially constitutes an invasion of America," writes conservative strategist Ed Rogers in the Washington Post. "How can President Obama get away with not standing with the citizens and government officials on the front line?"
George Washington University Prof Lara Brown says that a border visit would be good politics for the president:
How exactly did Obama's advisers ever gain a reputation for political savvy? How is it that they missed that if Obama wants movement on immigration reform - something more than executive actions - then, plain and simple, he needs to put congressional Republicans in a corner?
How best to do that? Go to the border. Talk about the dire need for immigration reform.
Others aren't so sure. The National Journal's James Oliphant and George E Condon Jr say that the president is in a lose-lose situation.
"If Obama goes to the border, he owns the problem," they write. "If he doesn't, he's blasted for a lack of leadership."
According to the Atlantic's Noah Gordon, presidential on-site visits can serve two purposes: to gather information and to serve as an "emotional figurehead" in times of crises. But Mr Obama's administration already has plenty of data on the scope of the immigration problem, he says, and the situation doesn't lend itself to the morale-boosting duties of a comforter-in-chief:
Rebuilding homes, or supporting the troops, is universally popular, and it's easy to strike a pose of resolve in the wake of a storm. How to adjust immigration policy is more divisive and complicated. Does Obama embrace the illegal migrants whom Speaker John Boehner wants to dispatch the National Guard to stop? Or stand in the doorway, hands on hips, reminding these children there's likely no safe haven here? Does he hand out water bottles or Notices to Appear?
On Wednesday Mr Obama addressed the situation during a stop in Dallas:
This isn't theatre. This is a problem. I'm not interested in photo-ops; I'm interested in solving a problem. And those who say I should visit the border, when you ask them what should we be doing, they're giving us suggestions that are embodied in legislation that I've already sent to Congress. So it's not as if they're making suggestions that we're not listening to. In fact, the suggestions of those who work at the border, who visited the border, are incorporated in legislation that we're already prepared to sign the minute it hits my desk.
In classic media style, "I'm not interested in photo-ops" was reduced to "I don't do photo ops", which sparked a renewed burst of outrage on the right, since Mr Obama has never been one to shy away from staged events.
This makes him no different than any of his predecessors, of course, dating back to the invention of the daguerreotype.
The president is back in the White House now, and the talk of border visits will likely trail away. Such is the nature of the controversy-of-the-day culture that has gripped Washington, in which every story is analysed in terms of what it means for the president's favourability ratings.
"The news cycle spins so fast that controversies become trivia within weeks," writes Slate's Dave Weigel. "Remember the Bowe Bergdahl prisoner deal? Remember the VA scandal? One was a fascinating story about a troubled soldier and his angry, betrayed comrades. One was a vast public health story with a high body count. Neither is getting any political coverage now, but at the time the Story was what they meant for Obama."
Just because the press has stopped talking about the Veteran's Administration, the problem hasn't gone away. And whether or not Mr Obama ever visits the border, the current immigration crisis will continue.
So focus now turns to Congress, which the president has asked to approve a $3.7b (£2.16b) bill to provide immediate support for the children who are being held in government detention centres, increase border patrols and help Central American governments staunch the migrant exodus.
While prospects for passage of the bill seem good, a bipartisan agreement could come apart when talk turns to long-term solutions - whether it's amending a 2008 human-trafficking law that delays deportations for minors or providing a permanent home for the detained children.