Judging Kathleen Sebelius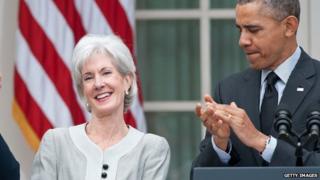 A review of the best commentary on and around the world...
Today's must-read
Hours after word leaked that US Health and Human Services Secretary Kathleen Sebelius was resigning, the battle over her political legacy - and the politics of her leaving - began.
Is her departure a sign that she is being held accountable for the rocky launch of the healthcare insurance exchanges or is it a smooth transition after she put the reform programme on a path to success?
The New Republic's Jonathan Cohn closes the book on Ms Sebelius's time in office, writing that the secretary was not really suited for the tasks at hand.
"Sebelius brought two main assets to her job," he writes. "She had experience regulating insurers and, as a successful Democrat in Kansas, she knew how to work with Republicans. But what Obamacare needed more was a deft, aggressive manager."
Despite this, he says, Ms Sebelius managed to overcome a tumultuous start and leave on a high note.
"It's now clear that Obamacare is succeeding in one of its primary goals - reducing the number of Americans without health insurance," he writes. "The only question is by how much."
He continues: "The memories of Obamacare's difficult start will certainly linger. But to the millions of people around the country who now have access to affordable medical care, I'm not sure that really matters."
Vox's Ezra Klein agrees that Ms Sebelius "can leave with the law she helped build looking, shockingly, like a success".
Rutgers Prof Ross K Barker writes in USA Today that Ms Sebelius is going to be known for the botched healthcare reform rollout, but much of the blame should go elsewhere.
"Her true misfortune was that she was the person called upon to implement a poorly conceived program that failed to take account of how the Affordable Care Act would disrupt the lives of so many Americans," he says.
Democrats who are arguing that Ms Sebelius's resignation is a sign that things are going well are misguided, says the Federalist's Ben Domenech. Now, the Senate will have to hold hearings and vote on her successor.
This surprise resignation presents Republicans with an unexpected opportunity to refocus the conversation on Obamacare's negatives, offers a chance to force vulnerable Senate Democrats to take a hard vote on Obamacare six months before the midterms, and serves to disrupt what had been a positive few days of media spin for the healthcare law into another conversation about its many failings.
President Barack Obama has nominated Sylvia Mathews Burwell to take the reins of the agency. Her confirmation battle will surely be a bruising one, with the merits of healthcare reform up for debate. Again.
Tibet
Strong-arming Shangri-La - China is losing an ideas war in Tibet, write Stefan Halper and Lezlee Brown Halper for the Los Angeles Times. If China wants to maintain control over Tibet, it needs to reassess the type of power it will wield and possibly move to a more hands-off approach - especially since the leadership in Tibet is likely to become more radical after the Dalai Lama dies.
"If that were to happen, China's policies might become more repressive, which would in turn enhance Tibet's soft power and cause global opinion to turn even more negative toward Beijing," they write.
"Alternatively, if China were to grant Tibet greater autonomy, China would be applauded for finding a rational solution to a difficult problem."
Venezuela
Breaking the US silence - Time and time again, Venezuelan President Nicolas Maduro has held the US up as a bogeyman to distract from its own failures, writes Business Insider's Linette Lopez. But the US stands in a powerful position, she argues, and Venezuela is more divided than ever. She suggests that the US could pull the plug on the purchase of Venezuelan oil and pulverise their economy, as oil exports are half of the country's income.
"Without them, Venezuela cannot finance the social programs that are the promise of Maduro's party," she writes. "Without them he will lose support that he cannot afford to lose."
US foreign policy
Becoming a bigger Norway - Amir Taheri of Asharq Al-Awsat thinks President Obama isn't as naive as many have accused him of being. When it comes to foreign policy, he says, Mr Obama wants the US to be less of an imperialist bully and more like Norway. If Mr Obama's goal is to emphasise the use of soft power over threats of military force, Taheri continues, his actions as president make much more sense.
"He has succeeded in cutting the US down to size," he writes. "Under Obama the number of people across the globe who respect and admire the US has not increased, but the number of those who fear it has decreased," he writes. "The trouble is that he has been less than frank about his ideological choice, not telling the Americans what he is cooking, thus acting without an express mandate from them."
China
A new kind of great power relationship - US Defence Secretary Chuck Hagel's visit to China alternated between warm and icy, writes Suthichai Yoon for Thailand's the Nation. It could be the beginning of a "frenemy" relationship that lends stability to the region, he argues.
"The US and China can talk frankly and put all their cards on the table instead of issuing threats and using undercover manipulation to undermine each other," he says. "Both realise that they need each other in this increasingly interdependent world."
BBC Monitoring's quotes of the day
Five deputies in the lower house of the Russian parliament, the Duma, have called for former leader Mikhail Gorbachev to be put on trial over the break-up of the Soviet Union. The collapse of the Soviet Union led to independence for 14 countries previously ruled by Moscow, including Ukraine.
"They say that 23 years later, especially in relation to Ukrainian events, this must be investigated right now. I don't understand what the State Duma deputies mean by "Ukrainian events" or why they are being linked…. They're calling for national liberation movements to be started on the territories of former Soviet countries - essentially, civil wars." - Former Ukrainian President Leonid Kravchuk in Izvestiya.
"This initiative will primarily play into the hands of anti-Russian forces. For instance, the Baltic states might say: look, in Russia they're calling for revision of 1991 outcomes, so we should draw closer to America and close ourselves off from Russia." - Aleksei Makarkin, deputy head of the Centre for Political Technologies in Novyye Izvestiya.
"Until we do away with the bad habit of decrying and spitting on the back of former leaders, we shall not become a truly great nation... Russia has never respected soft leaders, but then moans about cruel ones. This is why if we want a soft leader, we need to at least learn to respect him. One does not need to worship him, but it is advisable to learn to say thank you." - Mikhail Zubov in Moskovskiy Komsomolets.
Have you found an interesting opinion piece about global issues that we missed? Share it with us via email at echochambers (at) bbc.co.uk.