Woody Allen allegations spur debate over legacy and celebrity culture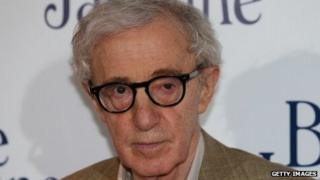 On Saturday, New York Times columnist Nicholas Kristof posted to his blog an open letter to the public from Dylan Farrow detailing allegations that her adoptive father, legendary actor and director Woody Allen, sexually assaulted her when she was seven years old.
The allegations first surfaced during contentious divorce and child custody proceedings between Mr Allen and actress Mia Farrow in 1993 but returned to public debate when the Golden Globes honoured the director with a lifetime achievement award and he received an Academy Award nomination for best original screenplay for his latest film, Blue Jasmine.
"For as long as I could remember, my father had been doing things to me that I didn't like" wrote Dylan Farrow. After the assault, which she says occurred in the attic of her house, she told her mother.
She recounts how the court battle between her parents played out from her perspective and the emotional impact the alleged assault and resulting high profile debate over Mr Allen's guilt have had on her mental health.
"I was stricken with guilt that I had allowed him to be near other little girls," she writes. "I was terrified of being touched by men. I developed an eating disorder. I began cutting myself."
Ms Farrow, who lives under a new name in Florida with her husband, lays blame for her situation in part on Hollywood culture and a US society that glorifies celebrities.
"Woody Allen is a living testament to the way our society fails the survivors of sexual assault and abuse," she writes.
On Sunday Mr Allen issued a statement denying his daughter's claims.
"Mr Allen has read the article and found it untrue and disgraceful," his publicist, Leslee Dart, writes.
He continues:
At the time, a thorough investigation was conducted by court appointed independent experts. The experts concluded there was no credible evidence of molestation; that Dylan Farrow had an inability to distinguish between fantasy and reality; and that Dylan Farrow had likely been coached by her mother, Mia Farrow. No charges were ever filed.
Ms Farrow's letter has largely generated sympathy from the commentators and columnists.
"Dylan Farrow's bravery is to be commended," writes the Washington Monthly's Kathleen Geier. "I hope that by going public, she finds renewed serenity and strength, and that her example gives hope to other survivors.
Actress/director Lena Dunham tweeted: "To share in this way is courageous, powerful and generous."
Others have called for Mr Allen to be shunned by the public and Hollywood.
"Look, none of us can be certain what happened," writes Kristof in a column that accompanied Ms Farrow's letter. "The standard to send someone to prison is guilt beyond a reasonable doubt, but shouldn't the standard to honor someone be that they are unimpeachably, well, honorable?"
That Mr Allen has been able to continue to move in celebrity circles and find support for his artistic work is a reflection of a "rape culture" that gives equal weight to the accuser and the accused, writes the New Inquiry's Aaron Bady.
"In a rape culture, there is no burden on us to presume that she is not a liar, no necessary imperative to treat her like a person whose account of herself can be taken seriously," he writes. "It is important that we presume he is innocent. It is not important that we presume she is not making it all up out of female malice."
Bernard O'Leary of the Guardian Liberty Voice writes that the allegations present a dilemma for Mr Allen's fans - similar to what fans of other celebrities have faced when their idols are accused of heinous crimes.
"The truth is that society does not really know how to deal with celebrity sex offenders, especially when the work they've produced is widely admired," he writes. "Fans and supporters will try to sweep it under the carpet and people will try to focus on the work. Perhaps it is possible to celebrate the art while condemning the artist, but hopefully society will not soon be listening to Woody Allen's apologists trying to claim that it wasn't 'rape-rape.'"
Reason magazine's Nick Gillespie notes that history is full of artists with tarnished legacies. How, he asks, should we treat their creations?
"If artists are not simply awful human beings but criminals, should we turn away from their work?" he writes.
Arthur Koestler was a rapist, according to one of his biographers. Does that mean his great anti-totalitarian novel, Darkness at Noon, should go unread? Edmund Wilson was a wife-beater, Picasso well beyond a sociopath, and on and on. When it comes to figures such as Martin Heidegger (an actual Nazi) and Paul de Man (a Nazi collaborator) and others in the past, the question is simpler: We can add new disclosures or information to a study of their influence and an estimation of whether their reputations are deserved. When faced with living, breathing creators such as Allen and [director Roman] Polanski, that sort of dodge isn't really available.
Other writers have argued that Mr Allen should have the benefit of the doubt.
"Clearly, this is a woman who is very damaged, if not by Allen himself, then by her parents' bitter breakup and savage custody battle," writes Susie O'Brien in the Melbourne Herald Sun. "I believe Farrow does think something terrible happened in that dark attic all these years ago, and she has clearly not recovered from it. However, it doesn't necessarily mean Allen is a child abuser who should be shunned from society, and ignored professionally."
Tablet Magazine's Alana Newhouse writes that the "entire premise" of Ms Farrow's letter is wrong. She shouldn't be blaming the public and Hollywood for her pain. Instead it was her mother's decision to not pursue criminal charges against Mr Allen that has left ambiguity in the case.
"It disabled our ability to judge anyone either way, and it solidified this as an endless he-said-she-said," she writes. "Imagine if Mia Farrow had pressed charges and Allen had been convicted and gone to prison. Does anyone think, for one second, that he'd be the recipient of a Golden Globes lifetime achievement award?"
The details in this case have been extensively covered over the past two decades. Several pieces in Vanity Fair present the case against Mr Allen. Robert B Weide, who directed a documentary about Mr Allen, offers his critique of the allegations and a defence of the embattled director in the Daily Beast.
Since the statute of limitations for charges against Mr Allen relating to Ms Farrow's allegations has passed, there will likely be no definitive resolution to this sad story. The public, and in the end history, will be the only judges for Mr Allen and his daughter.