Lebanon bombing: 'Iran will pay the price'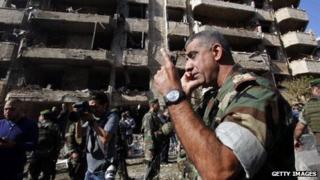 Yesterday's attack on the Iranian embassy in Beirut, which killed at least 22 people, has regional commentators looking for someone to blame.
One or two explosions won't alter positions or change the course of events, whether in relation to Iran and Hezbollah's involvement in Syria or to the nuclear talks. - Abd-al-Wahab Badirkhan in Lebanon's Al-Nahar (Christian, politically centrist, anti-Syrian).
It is illogical to look at the two explosions without linking them to Tehran and the role of its Lebanese militias in fomenting the Syrian crisis. - Editorial in the United Arab Emirate's Al-Bayan (privately owned, pro-government).
Because of Lebanon's shared border and shared destiny with Syria, and because Syria is the lung with which Lebanese people breathe, the timing of the two terrorist explosions comes at a critical stage given the remarkable achievements of the Syrian army. The two blasts signify the frustration of the armed groups, embattled by the Syrian army. … These groups are trying to compensate for failure by transferring their terrorism abroad, to Iraq and Lebanon. - Editorial in Oman's Al-Watan [(privately owned, pro-government).
The US-Russian agreement on the elimination of Syria's chemical weapons has not only strengthened the Damascus administration but also its allies, Iran and Hezbollah. They have all gained ground. The forces behind the Beirut bomb attack probably have this message: Iran will pay the price for our lost ground. - Ibrahim Karagul in Turkey's Yeni Safak.
(From reports provided by BBC Monitoring)