Human rights cases to raise with Beijing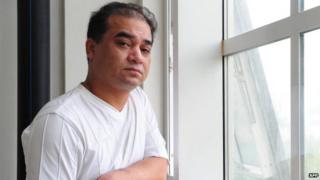 If human rights really are still up for discussion, as No 10 appears to insist, one case that David Cameron might want to consider raising when he sits down with Li Keqiang is that of Ilham Tohti.
Professor Tohti's lawyer, Li Fangping, has told the BBC that he believes his client, whom he hasn't been allowed to see since his detention five months ago, may already have been put on trial by the Chinese authorities in secret and handed "a very serious" sentence.
Mr Li says the claim comes from his sources although he has no way to confirm it. Secret trials are not uncommon in sensitive political cases in China.
Ilham Tohti is a well known and highly respected academic and a Uighur - a member of the predominantly Muslim Turkic ethnic group from China's far western Xinjiang region.
He was dragged from his Beijing home in January, in front of his young children, by a large group of police officers and, a month or so later, formally charged with "inciting separatism".
China has blamed a number of violent attacks on civilian targets over the past year on Uighur separatists and launched a sweeping security crackdown - this week executing 13 people for what it said were terrorism-related offences.
A number of international artists and writers, including Salman Rushdie, have added their signatures to a letter calling for Ilham Tohti's release. They have pointed out that, while frequently critical of Beijing's policies in Xinjiang, there is no record of him ever having supported the cause of separatism.
"Every citizen has the right to criticise," his lawyer, Mr Li, told the BBC. And if they have indeed held the trial in secret they have done so, he said, because of a "lack of confidence and because they know there is no evidence."
On its own merits then this troubling case would be a worthy one for Mr Cameron to raise today.
But there's another good reason. Professor Tohti is already proof that direct government-to-government human rights advocacy with China can yield results.
He was previously detained, on similarly spurious grounds, in 2009 during another upsurge of violence in Xinjiang. But he was released just a day after a new US ambassador took up his post in Beijing.
With President Obama preparing for a visit to China later that same year, sources in Beijing suggested the release had been secured through lobbying. It was in China's interest to remove the issue as a possible irritant to a smooth presidential summit.
Ahead of Li Keqiang's visit, the Chinese ambassador to London told journalists that "pointing fingers is not good for mutual understanding".
He repeated China's well-rehearsed position that criticising its human rights record fails to reflect the country's different political and social systems and that dialogue should instead be based on "mutual respect".
The ambassador's comments came on the same day that the Chinese authorities announced that one of the country's most celebrated human rights lawyers, Pu Zhiqiang, had been formally arrested for "creating disturbances and illegally obtaining personal information".
He had already been in detention for more than a month and was just one of more than 40 lawyers, scholars, journalists and other activists rounded up and held under some form of detention ahead of the 25th anniversary of the Tiananmen Square crackdown.
Reports suggest Mr Pu has been subjected to interrogations lasting up to 10 hours a day.
In and amongst the discussions about the £30bn worth of UK-China business deals said to be on the table, his is another name that Mr Cameron might want to consider raising.