An unexpected invitation from North Korea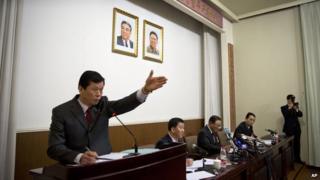 It all began with a mysterious telephone call.
A North Korean diplomat called the BBC Beijing office saying his embassy was holding a press conference and asking if we would like to attend. We weren't told what it was about.
But, of course, we said yes. Press conferences at the North Korean embassy are incredibly rare - the last one was several years ago.
About 30 journalists turned up at the embassy. At the front gate, a North Korean diplomat checked off our names and then waved us in.
'Unimaginable conflict'
Inside the embassy's large hallway there was a picture of North Korea's founding leader, Kim Il-sung, meeting Chairman Mao.
In another picture, Kim Il-sung was shown eating what appeared to be dumplings with Chairman Mao's right-hand man, Zhou Enlai.
Wearing a smart dark suit, the ambassador read out a prepared statement calling on countries to end "hostile acts".
With South Korea and the US set to carry out military exercises in the coming weeks it was obvious who he had in mind.
He warned that a small incident could trigger an "unimaginable" conflict.
But the fact that he was holding a press conference in the first place was pretty extraordinary.
It's all part of a highly unusual North Korean charm offensive to bolster support for its latest offer of reconciliation with the South.
Slicker propaganda
Earlier this month, Pyongyang's ambassador to the United Nations hosted a similar event in New York.
Diplomats at Pyongyang's embassy in London have also been soliciting the opinions of journalists, diplomats and politicians on its latest offer.
In recent years, North Korea's propaganda machine has become slicker, using social media such as Twitter to promote their message.
At the press conference in Beijing the ambassador took some questions from foreign journalists.
When the event was over, one diplomat was happy to take our business cards. He was polite and friendly.
If it hadn't been the North Korean embassy everything would have felt completely normal. But it could be a while until we get another call.