China celebrates rice porridge festival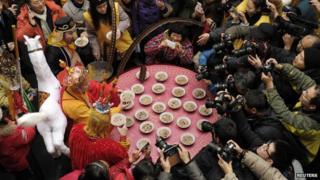 It's the annual Chinese festival that Goldilocks would approve of - the Laba Rice Porridge Festival.
To mark the festival on Wednesday, many people across China have been sitting down to eat a bowl of laba porridge, traditionally made from glutinous rice, nuts, soya beans and dried fruits.
The festival has Buddhist origins, but is also seen in China as way of gaining good fortune, long life and a fruitful harvest.
It's also a time of charity. In one city, Buddhist monks this year reportedly cooked 7.5 tonnes of the stuff. Among this year's lucky recipients of a free bowl of porridge were 500 street cleaners and 100 taxi drivers.
Last year, one newspaper reported that a Buddhist temple in southern China had handed out an astonishing 400,000 bowls of "blessed" porridge.
The monks' generosity, however, wasn't matched by the behaviour of some of the visitors.
According to the Global Times, there were "chaotic scenes" after visitors - some of whom had queued for hours - were told the porridge giveaway was over and they wouldn't be getting their serving.
One eyewitness said the "blessed" atmosphere had been ruined by "greedy" people.
But I'm happy to report that tempers eventually cooled once steaming bowls of porridge materialised. The newspaper also added that nobody was injured in the fracas.