China journalist visas: The waiting game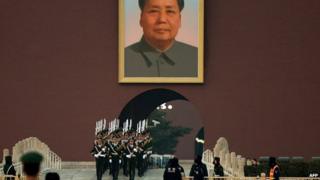 Journalists are used to facing tight deadlines.
But things are getting down to the wire for the China-based correspondents in the New York Times and Bloomberg bureaus, as they wait to see if the Chinese government will renew their journalist visas for another year.
In a positive development, all of the Bloomberg journalists and some of the New York Times journalists have received their press cards from China's Ministry of Foreign Affairs.
However, another hurdle awaits - the journalists must still apply for residence visas from the Public Security Bureau, a separate wing of the Chinese government.
"5 Days Till Visa Expiry," New York Times correspondent Andrew Jacobs tweeted this week.
"Do u think hauling all my stuff to gates of Foreign Ministry and holding a tag sale will get their attention?"
At the start of 2013, Bloomberg received 26 official journalist visas and the New York Times received eight for journalists working in Beijing and Shanghai.
However, both news organisations fell out of favour with Beijing after publishing exhaustive investigative stories that profiled the extensive personal fortunes of the families of top Communist leaders.
Peter Ford, president of the Foreign Correspondent's Club of China noted that there were more journalists outside of China who were also waiting for visas.
"We hope too that Chris Buckley and Phil Pan, New York Times reporters who have been denied Chinese visas for over a year, will be allowed to work normally in China."
But perhaps this is just a waiting game? The government's excuse to let the journalists sweat?
"Of course they'll get their visas!" grumbled one Beijing journalism professor, who didn't want to be named, for fear of punishment from the authorities.
"The government is just teaching the foreign journalists a lesson.
"If Beijing reissued visas after 1989, they'll issue them again now."
But there are good reasons to be less optimistic.
Paul Mooney, a highly respected veteran correspondent, was denied a visa in November this year.
After working as a journalist in China for 18 years, the American accepted a position as a features reporter for Thomson Reuters in early 2013.
Ironically, on China's self-appointed Journalists' Day on 8 November, Reuters was told that Mr Mooney's application had been rejected.
No explanation was ever given, though Paul Mooney's ongoing interest in covering human rights violations, particularly in Xinjiang and Tibet were likely to be key reasons behind the government's refusal to allow him to return to his adopted home.
Though, lest we forget, Chinese journalists face a much bleaker future if they anger the Chinese government.
Foreign journalists have another country to return home to, and a foreign government to defend their rights, while their Chinese colleagues face imprisonment.
According to the Committee to Protect Journalists, China is one of the world's top three offenders for jailing journalists. Thirty-two currently sit behind bars.
But one final thought - perhaps the government's attempt to punish foreign journalists by delaying their visas will backfire?
Several prominent activists could face trial in the next few weeks, in an apparent attempt to hide negative press from the outside world.
This tactic has been used before: the Nobel Peace Prize winner Liu Xiaobo was famously sentenced to 11 years in prison on 25 December 2009.
By forcing some of the country's best foreign reporters to stay in the country over the Christmas holiday, Beijing might bring more attention to stories it might want to hide.