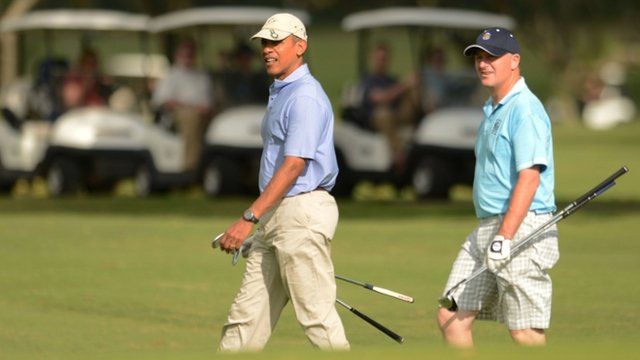 Video
President Obama plays golf with New Zealand PM John Key
US President Barack Obama has played a round of golf with New Zealand Prime Minister John Key while on holiday in Hawaii.
The two leaders - both on holiday with their families in the US Pacific island state - discussed their shared interest in the sport, the White House said.
Also in the foursome at the golf course at a Marine Corps base in Kaneohe Bay were Mr Key's teenage son and White House aide Marvin Nicholson.
At one point, Mr Obama gave Max Key a high five after the teenager sank a putt.
In addition to playing what appeared to be a fairly casual round, the two leaders reaffirmed their efforts to work together on trade relations and regional security, the White House said.