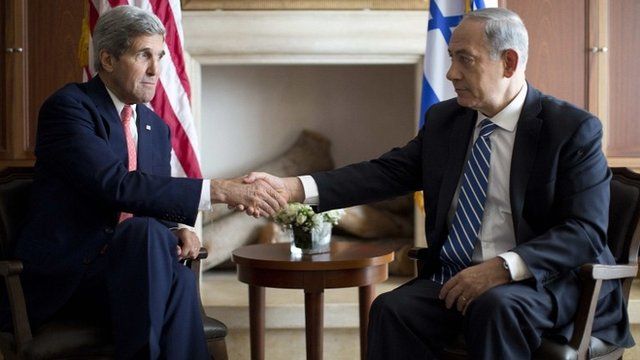 Video
Israel accuses Palestinians of incitement over talks
Israeli Prime Minister Benjamin Netanyahu has blamed the Palestinians for the apparent stalemate in their peace talks, accusing them of creating "artificial crises" and incitement.
He was speaking at a meeting with US Secretary of State John Kerry, who is due to visit Palestinian Authority President Mahmoud Abbas later on Wednesday.
He said: "I'm concerned about their progress because I see the Palestinians continuing with incitement, continuing to create artificial crises, continuing to avoid, run away from the historic decisions that are needed to make a genuine peace."
Go to next video: Kerry Saudi visit 'damage limitation'