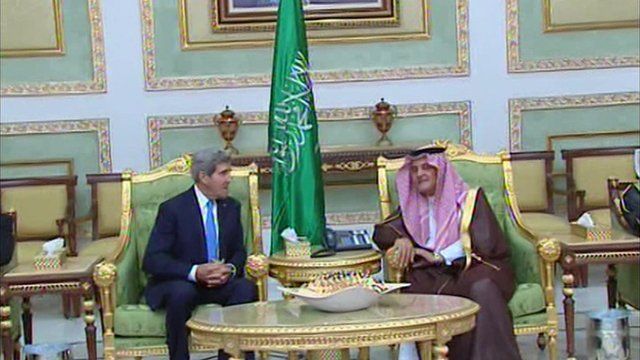 Video
John Kerry Saudi visit is 'damage limitation' for US
The US Secretary of State John Kerry is in Saudi Arabia on a trip which appears to be designed to rebuild relations with one of America's key allies in the Gulf.
The Saudis have long backed American policies in the region, including allowing the US military to use its territory during the build-up to the Kuwait war and Operation Desert Storm in 1990 and 1991.
More recently, tensions have grown over Syria. Saudi Arabia is unhappy at the prospect of peace talks installing an Iranian-backed government in Damascus.
Saudi Arabia also supports the military-backed government in Egypt; while the US wants democracy to be restored there.
The BBC's security correspondent Frank Gardner believes that Mr Kerry's trip is something of a "damage limitation visit by Washington".
Go to next video: Kerry urges stability on Egypt visit