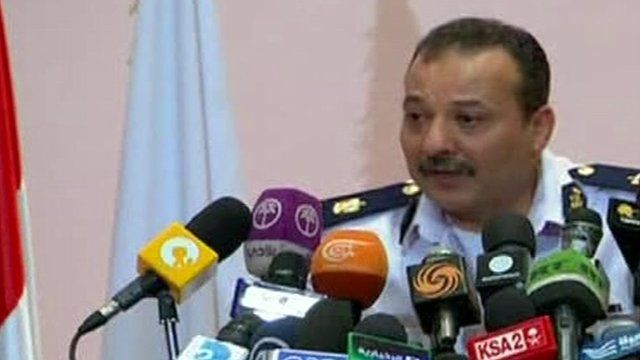 Video
Egypt unrest: 'We controlled the situation'
Hani Abdeltif, spokesman for the Egyptian interior ministry, has said that "our goal is the interest of Egypt" after the deaths of at least 51 people near a barracks in Cairo.
There were conflicting reports over what happened outside the barracks on Monday morning.
The Muslim Brotherhood, which supports ousted president Mohammed Morsi, put the number of dead at 53, and said children were among the victims.
They say protesters were fired on as they staged a sit-in for the ousted president, while the army said it had responded to an armed provocation.
Mr Abdeltif said there was an "exchange of fire" and described the incident as a "treacherous attack". The military has released footage which it claims shows pro-Morsi protesters shooting at soldiers stationed in front of the Republican Guard building. The images were slowed down and highlighted by the military, other footage shows people throwing missiles.
Go to next video: 'Army is ruling with fire and steel'