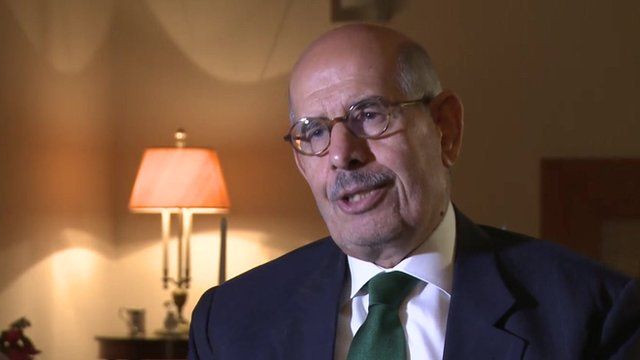 Video
Egypt crisis: 'We were between a rock and a hard place'
Mohamed ElBaradei is now the favourite to lead a transitional government in Egypt after Mohammed Morsi was removed from office by the military.
Mr ElBaradei, 71, is coordinator of the main alliance of liberal and left-wing parties and youth groups, known as the National Salvation Front.
It was formed late last year after Mr Morsi granted himself sweeping powers in a constitutional declaration.
Speaking to the BBC's Middle East editor Jeremy Bowen, Mr ElBaradei defended the army's intervention.
"The other option was civil war," he said. "We were between a rock and a hard place."
He described the manner of Mr Morsi's removal as "a hiccup".
"Unfortunately we had to go though this hiccup, but I am very determined that hopefully we'll get it right," he said.
Go to next video: Two new Egypts emerge from unrest