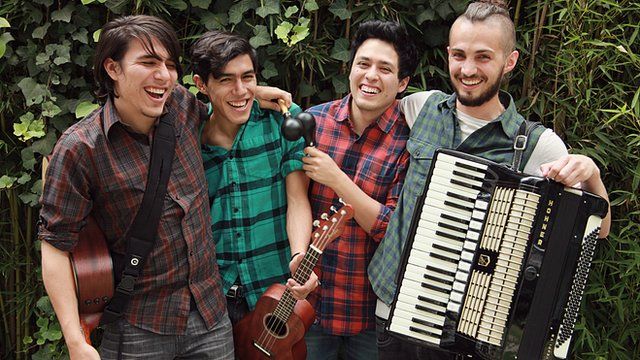 Video
LatAm Beats: Ocean's Acoustic
Just four years ago, the young musicians of Ocean's Acoustic were busking in the streets - now they are recognised as one of Mexico's most promising bands.
They have produced three albums in three years and are in demand to perform at the country's biggest music festivals.
Three band members - Marco Mares, Rubén Rodríguez and Emilio Anaya - are still at university. Adán Díaz has just graduated.
Ocean's Acoustic have challenged the current Mexican music scene with their acoustic folk style, use of instruments such as ukulele, mandolin, accordion and violin.
"We used to be a punk band," says Rubén the vocalist of the group "but we have calmed ourselves down a bit now".
Not forgetting their humble beginnings, last year the band embarked on "La gira de los parques" - the Parks' tour - and performed their music for free in the parks of Mexico City.