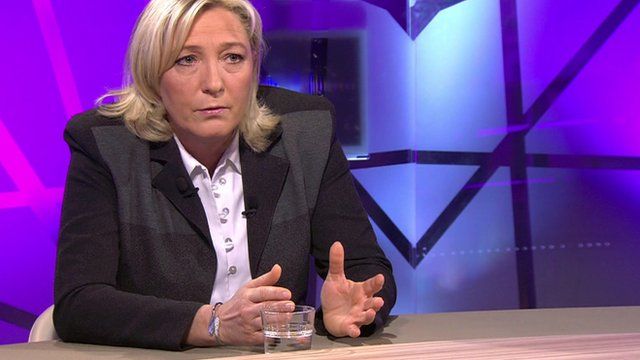 Video
France's Front National party leader on UKIP
The leader of the French far right-wing Front National (FN) party has said her "arms would be open to join up in a common plan to fight the European Union".
Marine Le Pen told BBC Newsnight that although UKIP leader Nigel Farage had turned down an invitation to be part of her campaign, the ideas he defends were "very similar" to those of her party.
In a statement, UKIP said it was "not interested in any deal" with Ms Le Pen or her party because of "prejudice and anti-Semitism in particular" in the FN.
UKIP this week appeared to align itself with a French Eurosceptic party.
See the interview on Newsnight on 17 April at 22:30 BST on BBC Two or afterwards on the iPlayer.