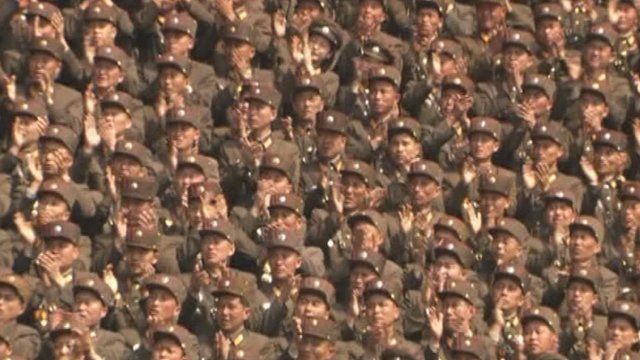 Video
'Mass show of loyalty' in N Korea
North Korea has staged a mass rally to show support for the country's new leader Kim Jong-un, just a day after a failed rocket launch that provoked international criticism.
The rally formed part of celebrations to mark the 100th anniversary of the birth of national founder Kim Il-sung.
Damian Grammaticas was at the event.
Read more on Damian Grammaticas' blog
Watch more of Damian Grammaticas' reports form North Korea below.
N Korea 'quiet' as rocket fails
Damian Grammaticas reports from elaborate unveiling of two giant statues.
Inside N Korea's mission control
Damian Grammaticas looks inside mission control HQ
Tour of N Korea's rocket launch site
Damian Grammaticas looks around North Korea's rocket launch site
N Korea's bid to control its image
Damian Grammaticas visits a fruit farm in North Korea
Citizens celebrate founding father
Damian Grammaticas watches 100th anniversary celebrations for Kim Il Sung