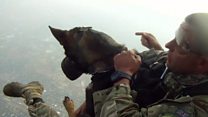 Video
Africa's skydiving anti-poaching dogs
Highly-trained dogs, which abseil or parachute from helicopters, form part of the armoury for South Africa's anti-poaching forces.
As poachers in Africa become more sophisticated, so too has the response from those trying to stop them, including the use of highly-trained dogs.
The BBC got to see what they're capable of at Paramount Group's Anti-Poaching and Canine Training Academy, in South Africa.
03 Oct

From the section

Africa