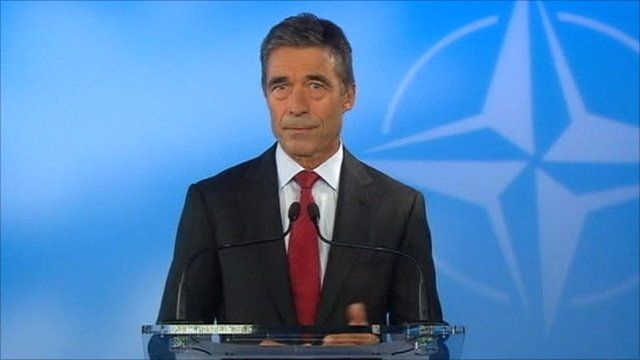 Video
Nato Secretary General: 'The Gaddafi regime is crumbling'
Heavy fighting is taking place in Tripoli around the compound of embattled Libyan leader Col Muammar Gaddafi after rebels seized control of much of the city on Sunday.
Rebels met little resistance as they swept in from east, south and west.
A rebel spokesman says pro-Gaddafi forces still control 15-20% of Tripoli.
Nato Secretary General, Anders Fogh Rasmussen, said that Col Gaddafi's regime was "clearly crumbling" and he called for a peaceful transition of power.
He said: "The sooner Gaddafi realises that he cannot win the battle against his own people the better, so that the Libyan people can be spared further bloodshed and suffering."
22 Aug 2011

From the section

Africa