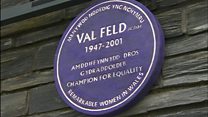 Video
Purple plaque for former AM Val Feld delights her family
The daughters of the late former Welsh Assembly member Val Feld say they are delighted she has been recognised with the UK's first purple plaque to honour a prominent woman.
Ms Feld, who was born in Bangor, represented Swansea East in the assembly from 1999 until her death from cancer in 2001.
She has been praised as a champion of equality, having previously served as director of the Equal Opportunities Commission in Wales and the housing charity Shelter Cymru.
Bronwen McCarthy and Hester Feld said it was inspiring to hear tributes from people who worked with their mother at the plaque's unveiling at the Senedd in Cardiff Bay.