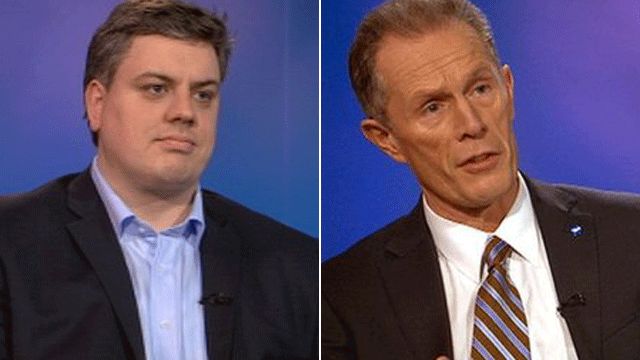 Video
Scottish independence: Yes and No camps debate referendum
The leaders of the two Scottish independence referendum campaigns have outlined their views during an interview on BBC Radio Scotland.
Blair Jenkins, who is head of pro-independence Yes Scotland, believes that whether people vote "yes" or "no" on Thursday, 18 September, there will be consequences.
He told Good Morning Scotland presenter Gary Robertson: "There is an absolute obligation on the no parties to talk about what are the consequences for Scotland - what do we face in terms of the future funding of Scottish public services? Will we be in or outside the EU? What powers are intended or promised by the different parties in terms of enhanced devolution?
"They can't agree within their own parties on what any changes might be so it will be very interesting to see if they can agree across the anti-independence parties on what any proposed changes will be."
The leader of the pro-Union Better Together campaign, Blair McDougall, said: "The yes side may not like that the burden of proof is on them, but they are the ones putting forward this propositions to us and saying we have to take this huge leap into the unknown.
He added: "All three parties have said that over the course of this year they will set out proposals for continuing the success of devolution. There will be overlap between those positions and it will be our job to articulate what that is."