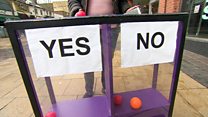 Video
Voters asked about austerity measures and UK economy
The Chancellor has said the UK is not out of the woods yet economically, but there is light at the end of the tunnel.
Daily Politics reporter Greg Dawson took the moodbox, an unscientific test with plastic balls, to Bexleyheath in south east London, and asked potential voters whether austerity has been worth it.
Watch more clips from the Daily Politics and see programme twitter account
Go to next video: Does Bexley back the UK's Brexit plan?