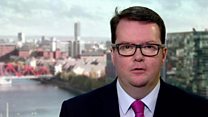 Video
McGinn bill for MPs to vote on N Ireland equal marriage
An MP representing an English seat wants the UK Parliament to vote on allowing equal marriage in Northern Ireland, arguing that power rests with Westminster because there has been no power-sharing executive at Stormont since January 2017.
Conor McGinn said his 10-minute rule bill would test the mood of MPs and said "people can't wait for their basic rights any longer".
But in a Daily Politics debate, the Daily Telegraph's Tim Stanley spoke about a "petition of concern" which could block the "provocative act" by the Labour MP as he looked back on a previous vote on the issue.
Watch more clips from the Daily Politics and see programme twitter account
Go to next video: Australia's first same sex wedding