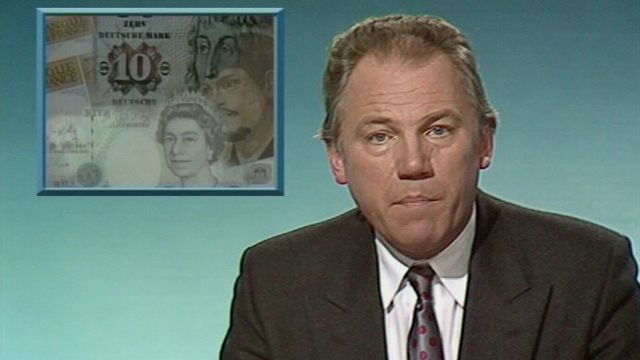 Video
Euro Moments: UK joins Exchange Rate Mechanism
This is part of a series of clips from the BBC archives on the subject of the UK and the EU - this clip taken from BBC News, was first broadcast on 5 October 1990.
The UK government has announced that the country was to join the European Exchange Rate Mechanism, the European Community's system for linking the values of currencies.
The governing Conservative Party had been split over entry to the ERM but Prime Minister Margaret Thatcher eventually agreed to sign up in October 1990.
The immediate impact was a fall in interest rates - the first in a year - and, on the day of the announcement, a rise in London share prices. Labour welcomed the decision.
The ERM, established some 10 years before, tied currencies' values to that of the German mark to bring stability to European markets and encourage trade. It was a precursor to the creation of the single European currency.
The UK would crash out of it two years later on 16 September 1992, dubbed Black Wednesday.
Go to next video: Euro Moments: Thatcher predicts EU 'nightmare'