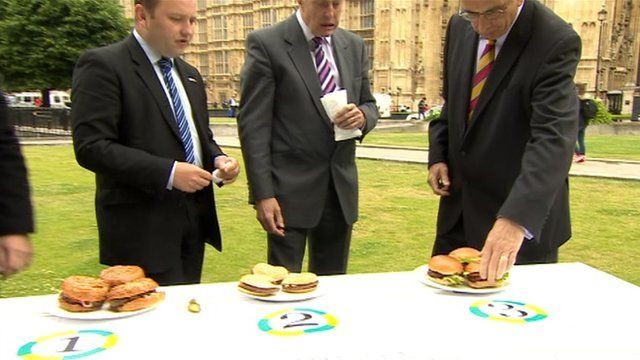 Video
MPs in posh burger test: Murray, Birtwistle and Bone
George Osborne got people talking about his image when he tweeted a picture of himself eating a £9.70 burger from an upmarket chain on the eve of his Spending Review.
That led to to plenty of comment about the cost of his meal, and to Communities Secretary Eric Pickles tweeting a picture of himself tucking into a salad.
Giles Dilnot was joined by three MPs - Labour's Ian Murray, Liberal Democrat Gordon Birtwistle and Conservative Peter Bone - for a blind test of three burgers as they were asked which they liked and which was the most expensive.
MORE FROM THE DAILY & SUNDAY POLITICS
Watch more clips of films and interviews, the Sunday Interviews with Andrew Neil, our soapbox films, or 'like' us on Facebook page; 'follow' us on Twitter or see full programmes from the last seven days via BBC iPlayer
Go to next video: Political week in 60 seconds