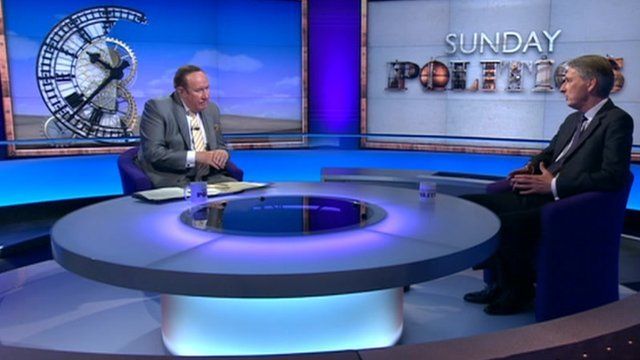 Video
Philip Hammond on EU referendum, defence budget and cuts
The European Union "is going to change" said Philip Hammond, but the question was whether that would satisfy the needs of the British people.
The defence secretary spoke to Andrew Neil after Michael Gove spoke about a bid by Tory backbenchers for an EU referendum, and claims of how Nick Clegg was appeasing Liberal Democrats.
They also talked about defence funding and cuts and how health and education services would be funded for servicemen and their families.
Mr Hammond also outlined how he planned to boost the number of reservists and pay smaller firms to encourage them to allow workers to join up.
MORE FROM THE DAILY & SUNDAY POLITICS
Watch more clips of films and interviews; 'like' us on our Facebook page; watch the Sunday Interviews with Andrew Neil, follow us on Twitter or watch programmes from the last seven days on BBC iPlayer
Go to next video: Making UK 'lean and mean and competitive'