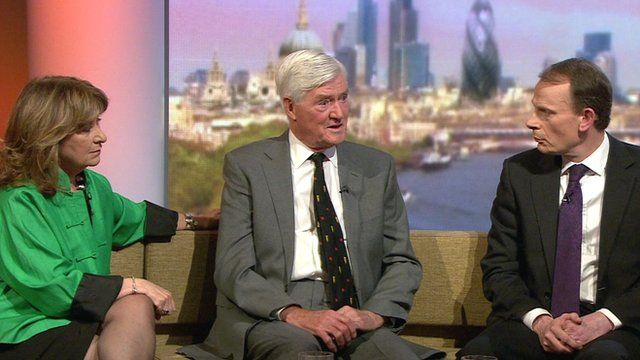 Video
Parkinson, Kennedy and Marr on Thatcher funeral protests
Baron Cecil Parkinson and Baroness Helena Kennedy have spoken of their hopes that demonstrations held alongside Baroness Thatcher's funeral show respect.
Speaking on The Andrew Marr Show, Baron Parkinson, once part of the Thatcher cabinet, commended people's freedom to demonstrate but urged that it be done in "an agreeable way".
Labour peer Baroness Kennedy said demonstrations would be held by those who recalled Conservative policy of the 1980s "too vividly" while Andrew Marr, returning to the show three months after suffering a stroke, believed the funeral and demonstrations would put an "end to the hysteria" surrounding the death of Baroness Thatcher.