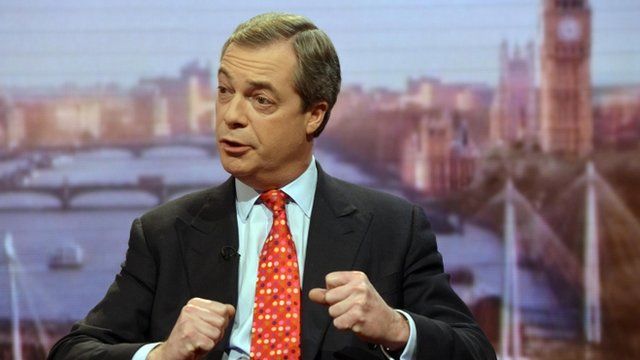 Video
Nigel Farage: PM's 'trying to get UKIP off his back'
David Cameron is to promise a referendum on whether Britain should stay in the European Union, if the Conservatives win the next general election.
The prime minister will say the vote would be held by 2018, after he has negotiated a new relationship with the European Union.
The UKIP leader, Nigel Farage, told Radio 4's Today presenter James Naughtie that a majority of people in the UK support his party's position on leaving the EU. "If you ask people the question: 'Do you want to be in political union with Europe?', then by a majority of two-to-one, people say no."
"If Mr Cameron was really serious about renegotiation then... he would invoke Article 50 of the Lisbon Treaty which is the only mechanism that exists with the treaties to take powers back," he added
"All he's trying to do is to kick the can down the road and to try and get UKIP off his back."
Nigel Farage was speaking on the BBC Radio 4's Today programme, broadcast on Wednesday 23 January 2013.
Go to next video: 'Farage as PM would be a nightmare'