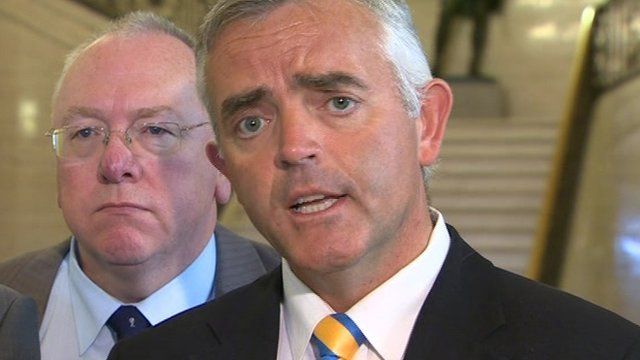 Video
Unionist leaders appeal for calm at parades decision
Representatives of the Democratic Unionist Party and Ulster Unionist Party have appealed for no violence after restrictions were placed on an Orange Order parade.
The Parades Commission, which issues determinations on contentious marches in Northern Ireland, barred a 12 July Orange Order parade from returning along a part of the Crumlin Road in north Belfast that separates loyalist and nationalist communities.
The DUP's Jonathan Bell said that any response to the determination "should be peaceful and lawful".
The UUP's Tom Elliot added that the Parades Commission "rewarded violence" and that "there should be no violence whatsoever".
Go to next video: McGuinness: 'Violence has no part'