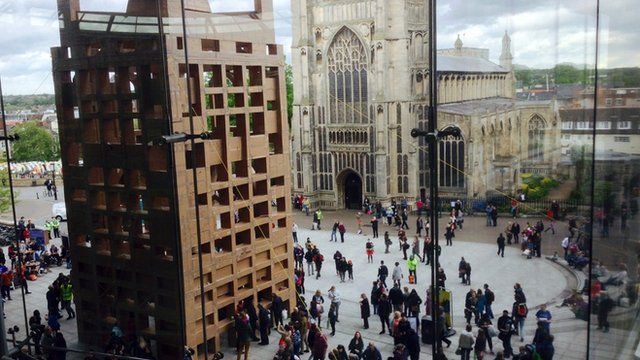 Video
Norfolk and Norwich Festival: Timelapse of The People's Tower
Hundreds of volunteer "builders" have gathered in the centre of Norwich to add a "new church" made out of 1,000 cardboard box "bricks" to the city's skyline.
The People's Tower community art event was created to mark the opening weekend of the annual Norfolk and Norwich Festival.
The 22m (72ft) cardboard construction, built to emulate the St Peter Mancroft Church tower, took more than eight hours to complete and was held together by more than eight miles of packing tape.
Designed by French artist Olivier Grossetête who has created similar structures across Europe, the homage was three-quarters the size of the real church.
The Norfolk and Norwich Festival 2014 runs until 25 May.
Go to next video: City festival gets under way