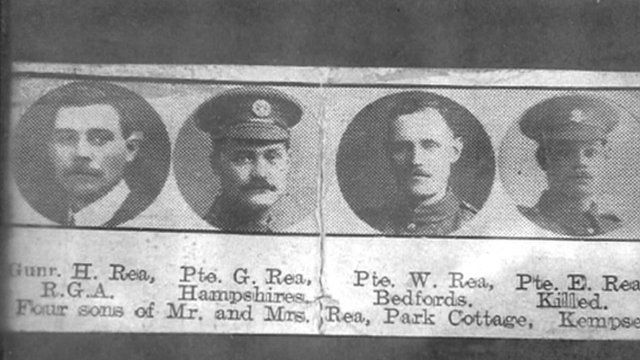 Video
Three Kempsey brothers died within months in World War One
Family members have reflected on the deaths of three brothers within six months in World War One.
Three of Frank Rea's four sons, all bell ringers at St Mary's church in Kempsey, Worcestershire, died in 1917.
Ernest, the youngest at 21, died first at Flanders. His body was never recovered; George died of wounds he received in a battle near Ypres and William succumbed to injuries he had sustained a few miles away. The fourth brother, Albert, survived.
Frank himself lived until he was 102.
Michael Rea, William's grandson, said: "I can't get over the youngest.... 1911 census he was 15, 1917 he's dead."
Signatures of the brothers who died were scratched on lead at the church. The graffiti was saved and put on new lead, bell ringer Henry Morris said.
He said: "It's very humbling I always feel. They came up as young ones, they did that and went off to the war and never came back."
BBC's Midlands Today's Bob Hockenhull reports.