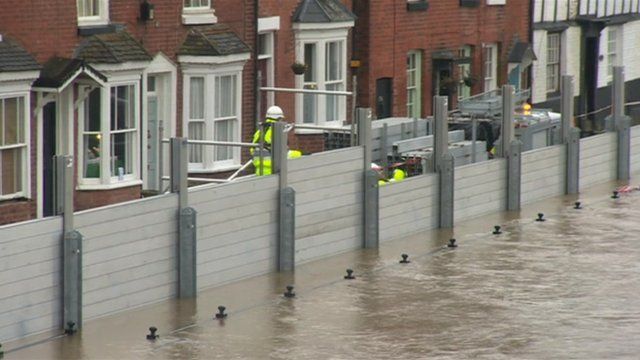 Video
Worcestershire flooding: Barriers built higher in Bewdley
Flood barriers have been built up in Bewdley as river levels continue to rise in Worcestershire.
The Environment Agency has warned the River Severn will peak on Thursday at at 5.8m (19ft).
Barriers have been extended in Severnside North and Severnside South to protect about 200 houses.
Local resident Pat Evans said: "We've never had it this high before but we've never had the defences before so this is really trying the defences out."
Lindsay Wilson said she had to cancel bookings for her holiday cottage in Bewdley because of flooding. She has installed a pump to clear flood water.
She said: "It's not river water, there's so much water in the ground it has to go somewhere so it's coming up through the floor."
David Hudson from the Environment Agency said about £10m had been spent on the flood defence scheme in Bewdley.