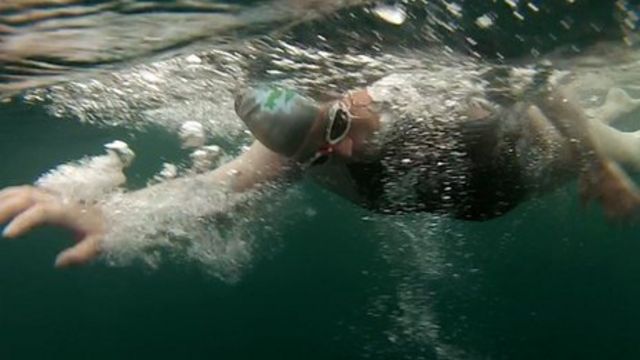 Video
Anna Wardley's Isle of Tiree endurance swim abandoned
A Hampshire woman has abandoned her attempt to swim solo around the Isle of Tiree in the Inner Hebrides.
Anna Wardley, 37, from Gosport, set off on the 30-mile (48km) route, at 05:19 BST Tuesday.
She abandoned her attempt after 16 hours and nine minutes due after starting to hallucinate due to the extreme cold, having completed 22 miles.
It was part of a five-island challenge, which followed completed swims around the island of Dragonera, off Mallorca, Portsea and Jersey, last year.
Speaking earlier, she said she was "absolutely fine" having warmed up and rested.
She added that she was considering swimming the final eight miles if weather conditions permitted while she was on the Scottish island.