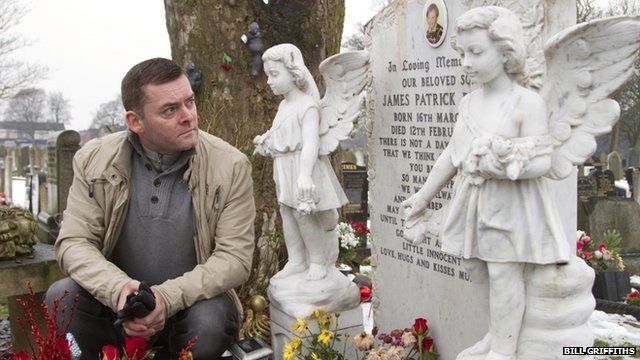 Video
Ralph Bulger: Pain will be with me for life
Tuesday marks 20 years since two 10-year-old boys murdered the toddler James Bulger in Liverpool.
In an interview for a special Radio 4 programme - Remembering James Bulger - his father Ralph says the family's loss has been compounded by a deep sense of injustice.
James's killers Robert Thompson and Jon Venables were released after spending eight years in secure children's homes.
Jon Venables was re-arrested and sent to prison in 2010 for possessing and distributing indecent images of children.
Speaking to the BBC's Winifred Robinson, Ralph Bulger said he is still haunted by his son's death: "It's always there, it always comes up. I still feel the same, but you learn to live with the pain."
"It's not a pain you can heal, it's with you for life."
Regarding Venables and Thompson, he said: "I couldn't believe they'd done it. They hadn't just killed James, they'd tortured him."
Mr Bulger also said in the interview that he "didn't know how to deal with it", and coped with his son's death in the following months by "non-stop drinking, binge drinking.
"I was just killing myself really, I couldn't really live with it."
You can read more of Winifred Robinson's interview with James Bulger on the BBC News website.
Excerpts from the interview were broadcast on BBC Radio 4's Today Programme on Tuesday 12 February 2013.
12 Feb 2013

From the section

UK