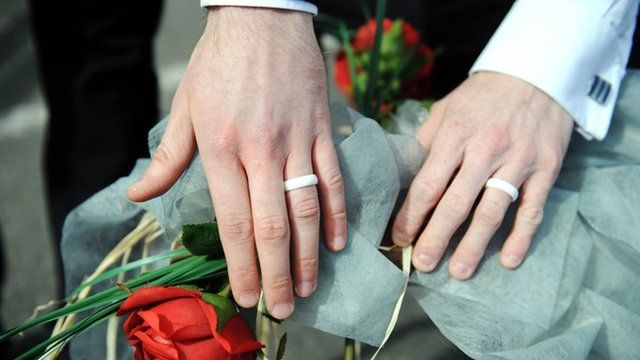 Video
Redefining marriage will 'cause confusion'
Three of David Cameron's most senior ministers have made a last-ditch attempt to persuade scores of Conservative MPs to drop their opposition to the government's proposals for gay marriage in England and Wales, in a vote in the Commons today.
The Chancellor, George Osborne, the Foreign Secretary, William Hague, and the Home Secretary, Theresa May, have written a joint letter to a newspaper, insisting that "a substantial majority of the public now favour allowing same-sex couples to marry".
Conservative opponents of the idea say the bill is a distraction that will anger the party's core supporters.
The measure is likely to be approved with the support of Labour and Liberal Democrat MPs.
Speaking on the Today programme Angela Eagle MP told presenter John Humphrys that this is "the last piece in the jigsaw" for equal rights for gay and lesbian people.
Charles Moore, columnist and former editor of the Daily Telegraph, gave his view that "gay marriage is not the same as heterosexual marriage."
"It is not an accident that marriage is between a man and a woman... it is at it's core," he said.
Removing "fundamental sexual element" of marriage will dilute it and cause confusion, Mr Moore added.
First broadcast on BBC Radio 4's Today Programme on Tuesday 5 February 2013.
05 Feb 2013

From the section

UK