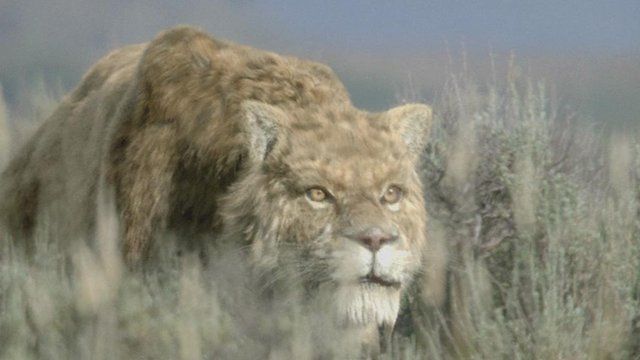 Video
Ice Age sabretooth cat's deadly attacks
Despite the notoriety of the sabretooth cat's seven-inch fangs, it may actually have been its muscular forelimbs and large paws which made it so deadly.
The infamous predator's long, thin teeth were surprisingly vulnerable to snapping after becoming stuck in the sinews or bones of a violently struggling victim.
It forced the cat to develop a unique killing method - wrestling its prey to the ground and holding it in place before using its teeth to stab and kill.
Professor Alice Roberts has examined the predator for a new three-part series, Ice Age Giants, which saw wildlife cameramen and CGI experts combine to recreate scenes from 40,000 years ago.
Watch episode one of Ice Age Giants on BBC Two at 20:00 BST on Sunday 19 May and afterwards on the BBC iPlayer.