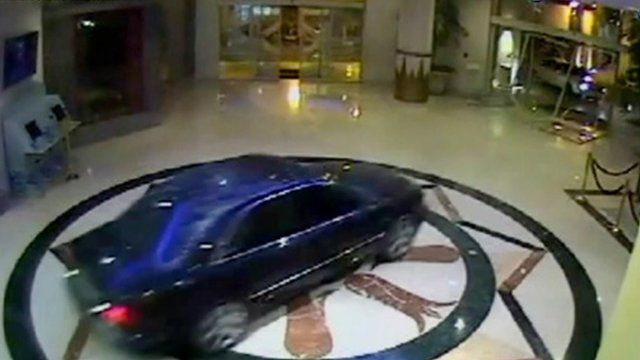 Video
Watch Pink Panthers gang steal £2m of gems in 170 seconds
In 2007 hidden cameras in an exclusive Dubai shopping mall captured the most incredible security footage. A gang in two high-powered cars smashed their way into the mall, a man in a black bodysuit and balaclava jumped out of one car, which then reversed into the door of the Graff jewellery store.
Armed with a gun and a hammer he helped himself to $3.4m (£2.1m) of diamonds and then the gang sped off, all within 170 seconds.
It turned out to be another heist by the infamous Pink Panthers gang, who hail from Montenegro and Serbia.
Watch Storyville - Smash & Grab, The Story of the Pink Panthers on BBC4 at 22:00 BST on 22 October. Or catch it on the BBC iPlayer.