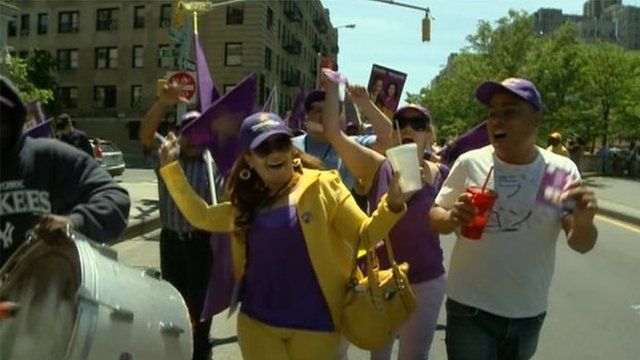 Video
Dominican-American vote crucial to presidential poll
The Manhattan neighbourhood of Washington Heights is at the heart of a Dominican diaspora that numbers nearly 700,000 people in New York State alone.
As the community has grown, so has its political activism - and influence. Now, the votes of these working-class immigrants have become an electoral prize courted by politicians from two countries.
Both candidates in the Dominican presidential election have set up campaign headquarters in New York ahead of Sunday's vote - and Dominican-American votes are likely to be crucial.
The community is also hoping to send the first Dominican-American to the US House of Representatives in Congressional elections to be held later this year.
Dr Ramona Hernandez is director of the Dominican Studies Institute at the City University of New York. She talked to the BBC about the Dominican community's emerging power.
Video produced by the BBC's Nada Tawfik and Chuck Tayman
Go to next video: Why do Americans consume 80% of world's painkiller drugs?